RUSKIN REAL ESTATE AND INFORMATION
The Home of Leisure Living and Sunshine.
The History of Ruskin, located on the shores of the Little Manatee River, Ruskin lies about 20 miles south of Tampa on U.S.-41. Founded in 1908, this rural community has remained fairly small with a census of about 17 thousand in 2010. Winding roads and spacious lots are the hallmark of this lovely community. Its gracious homes are surrounded by lush vegetation and mature trees, are just a couple of the features you can expect of Ruskin, Florida real estate. Ruskin is a growing town with New Construction building everyday throughout this quaint community.

Ruskin, Florida
Real Estate
Shopping and Dining
Who doesn't love a great bargain? There are certainly plenty of those at the Ellenton Premium Outlets. With 130 stores to choose from, there is something for everyone. The Resort and Club at Little Harbor is truly a hidden gem with fine dining, romantic atmosphere, with a refreshing Tiki Bar and beach. Dancing and dining are always fun at the Sunset Grill Restaurant on Destiny Drive.
Parks and Recreation
Ruskin, Florida real estate is characterized by large lots, sweeping lawns, and some truly gorgeous public parks. E.G. Simmons Park, just three miles north, is a beautiful 458 acre area of mangrove trees growing amidst winding waterways. This park is a sanctuary for birds and animals, making it a perfect place for birdwatchers and other nature lovers to enjoy some time away from the city. The picnic and camping areas offer stunning views.
The Cypress Creek Golf Club is a membership golf club with several options available for nearly everyone. The course sits in the middle of a gorgeous nature preserve, allowing golfers to see some of Florida's amazing wildlife. Unlike many courses, it only has homes near a very few holes.
Of course there are a wealth of attractions in Tampa Bay, such as the Glazer Children's Museum, the Salvador Dali Museum, the Tampa Museum of Art, the Manatee Viewing Center and the beautiful Busch Gardens.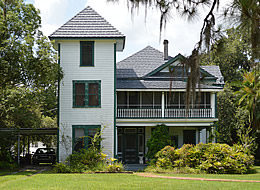 Living
The annual Ruskin Seafood Festival brings some real excitement to E.G. Simmons Park. For just $2 per carload the whole family can have an extraordinary day of fabulous food, arts and crafts, boat displays, children's play area and live entertainment. Clowns for the children and live music for the grownups make this event fun for all ages. Onsite health screenings and educational exhibits round out the day. Ruskin has the country's only Family Drive-In Movie Theater in the area.
In December, the Community Development Foundation also sponsors the Ruskin Tomato and Heritage Festival. This event takes place in E.G.Simmons Park as well.
Sports enthusiasts are especially proud of the Tampa Bay Buccaneers and the Tampa Bay Rays, as well as the Lightning on the hockey arena.
Schools, Healthcare, Transportation
Ruskin, Florida real estate is encompassed by the Hillsborough School District and is served by Cypress Creek Elementary, Ruskin Elementary, Shields Middle School, Lennard High School and South County Career Center. Enrollment information is conveniently located on the district website. This school district does allow some registration out of an attendance area, upon request and acceptance. Ruskin Christian School is a private academy for grades kindergarten through high school. Institutions of higher learning include the University of South Florida in St. Petersburg, Hillsborough Community College in Brandon, Eckerd College in St. Petersburg, the University of Tampa, St. Petersburg College in Clearwater, and State College of Florida Manatee/Sarasota in Bradenton.
There are a number of local hospitals and medical centers in the area including South Bay Hospital for emergency services about five miles away in Sun City Center, St. Joseph's Hospital for acute care and emergency services, in Apollo Beach, and St. Anthony's Hospital about 13 miles away in St. Petersburg.
Easy access to the Sunshine Skyway Bridge from I-75 in Ruskin or US 41 South. Interstate 75 runs right beside the community of Ruskin.
If you are thinking about buying or selling a home, give us a call at (813) 494-4873 or send us an email to explore your options and to find out when is the best time for you to make a move.